Endorsements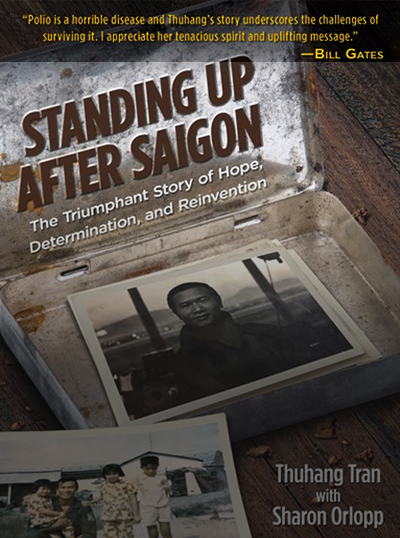 Trending Now
In this incredible true story of familial love and triumph through adversity, Thuhang Tran and Sharon Orlopp document decades in the lives of Thuhang and her father. Their powerful memoir, Standing Up After Saigon, follows the Tran's through their respective struggles, from Thuhang's battle with polio and the impact of her father's absence, to his immigration to the United States and his desperate 15-year mission to be reunited with his daughter and loved ones.
Thuhang's seemingly impossible story continues to attract praise from readers – and from one of the world's most renowned thought-leaders and philanthropists. Through it all, Thuhang has remained hopeful and resilient, and lives today to inspire those around her to find strength through perseverance. Discover her moving story at StandingUpAfterSaigon.com.
Author of
The Line: Your Trajectory Code


"Milli and her team are the real deal . . . I have done eight books with her, and every title has been excellent. Three of the books I did with BBPG were picked up 'as is' by major trade book publishers in New York!"
Author of
Xbox Revisited


"You truly put the author's needs at the center of what you do and that made this entire effort possible. I am most grateful that you … took the time to understand my goals and objectives."
Author of
Why is Everyone Smiling?
and
Smile Guide


"You've built a great business model that allows authors like me to get a book published while retaining the rights and control over its distribution. I look forward to the benefits that the book will bring, and I hope that it helps other business leaders in their own companies."
Author of
Life's Bridges: Building Your Bridge to Financial Wealth


"I count this as one of the best decisions we've made as a firm. In terms of a return on our investment, I'm most pleased that our results not only have helped increase the awareness of LD Lowe and our services, but also increased our credibility."
Author of
The Smart Woman's Guide to Heart Health


"I am grateful for the support, encouragement, and professionalism of the entire BBPG staff, including the experience and insight of the editorial team, the inspiration and vision of the design group, and the fabulous PR people, who have far exceeded my expectations."
Author of
Women Create!


"What a fabulous team. Hats off to their super-duper leader. Everyone I work with at BBPG is so helpful, gracious, and creative."
Author of
Beware the Red Flag Man


"Everyone at BBPG has been helpful, kind, supportive, and fabulous! My book is everything I dreamed it would be and more."
Author of
LBJ 1908-1973


"The people at BBPG are absolutely top notch."
Author of
A Snowy White World to Save; Gwynne, Fair & Shining; I'll Follow the Moon; The Library Mouse, and Eliza's Forever Trees


"The flawless professionality of BBPG remains of the highest echelon; it is a joy to work with a team of this caliber. To see my story come to life is a wonderful thing and one of the greatest gifts I have ever received."